...
Testimonials
We love to keep in contact once you've taken your kitten home - please email us with updates and pictures!

Lulu-Belle
Lulu-Bella was one of our first kittens, and now lives with her lovely new owner and is absolutely spoiled. We are lucky enough to still receive pictures and updates of her. Below are some comments from Lulu's new owner:
"I am really very happy to say in no uncertain terms how absolutely delighted we are with Lulu Belle. She is gorgeous, has settled in very well. She's totally healthy, brilliantly socialised and has a lovely even temper and is very affectionate."
"She's adorable……we are really so very happy we have her."
"When friends see Lulu Belle they are always very impressed by her looks and nature."
"I am so very happy that l chose our kitten from you."
- Amanda Hughes, Wales
Oliver
"When I came into to contact with Hayley it was by pure chance. I had been looking for a British Blue Short Haired breeder for some time. I was extremely pleased when I found Hayley and to date am very grateful for all the information and advice that she has provided. But I am most grateful for Oliver, our beautiful baby blue bear who is an absolute treasure. I have never seen a more content well balanced kitten who has settled in very well into our family. He is a healthy, beautiful, strong chunky boy with bags of character and confidence. I cannot thank Hayley and her family enough for allowing me to adopt one of their precious babies."
- Pat Evans
Kumachan
"Thank you Hayley for your advice and support when helping us choose one of your adorable kittens. Your expertise, passion and knowledge really shine through and are showcased in your beautifull healthy kittens and their parents. We are so pleased with our little girl "Kumachan". She is growing very fast and living up to her name, turning into a real "little bear"! She has a wonderfull personality and makes us laugh every day with her new antics. We stayed with family over Christmas and she interacted well with so many new people, small children included. Everyone had a cuddle and a play,and Kumachan just loved all the attention. We are now back home and she has settled in nicely with just the two of us. She is most definately a lap cat and enjoys sitting on our laps of an evening in front of the telly. Her playtime is getting more energetic too, and she often performs ariel summersaults when chasing her cat toys, jumping higher every day! As Kumachan is such a star, We have decided to create a blog to capture her growing up (www.lovemybsh.com). We will post pics and vids and you can watch her grow into a fully grown bear x"
- Andy and Yuki, Cornwall
Kumachan has her very own blog! Visit it to view photos of her daily adventures.
Bertie
"Hayley is a real example of a responsible breeder, ensuring both new owners and kittens are happy and confident in each step of the homing process. We could not be more pleased with our new addition who is interactive, affectionate and provides us with great amusement! This breed is a true character and I would strongly recommend a Blue Bears cat to anyone looking for either a family cat or a quiet companion."
- Christian and Becky, Penryn, Cornwall
Little Bear
"Thank you so much for allowing us to adopt one of your precious little fur babies. He has truely changed our lives from the moment we spoke from the moment we brought our little bear home, you made us feel so welcome and reassured due to your professionalism and your lovely friendly caring manner. Daily photos and weekly calls even after bringing him home showing that the welfare of the kitten was paramount as opposed to the business. I would highly recommend that anyone looking to get a bluebear that you should be their first port of call."
- Lisa, Plymouth
Theodore
"We can not praise BlueBears enough for their commitment, time, dedication and love of not only what they do but love of each British Blue that is born through them. Thankyou from the bottom of our hearts for our beautiful blue, Theodore."
- Hana and Ross Heaver, Goldsithney
Teddy
"Thankyou so much to Bluebears for letting us take home Teddy, I've had cats from breeders before but never had such a warm welcome from Hayley with weekly photos and updates, her kittens are beautiful and loved so much by Hayley that their health and happiness comes before anything. And I was told Teddy comes with a lifetime of support which is wonderful. Could not recommend Bluebears highly enough and these little fur babies will have you falling in love in an instant."
- Elaine and Steve, Plymouth
Betty
"Hayley is a very responsible breeder, who welcomed us into her home to meet the lovely Blue Bears. She kept us in touch every step of the way, from Mum getting pregnant, to the birth of the kittens and beyond. We now have a lovely Blue Bear kitten called Betty, who has fitted in well with the rest of our pets and is a great joy to us. We would recommend Hayley as a Short Haired breeder for her wealth of knowledge advise and enthusiasm."
- The Davies Family, Helston
Rosie and Arthur
"Thank you Hayley for Arthur and Rose, our precious new kittens! We found Hayley by luck after looking at other breeders, but it was obvious from our first conversation that Hayley was completely dedicated to her Bluebears, honest and trustworthy. I really appreciated all the advice and guidance which Hayley was able to give, and it's lovely to know that she will always be interested to hear of the kittens' latest antics! Arthur and Rose have settled in to life with us brilliantly and we can't wait to watch them grow. For anyone out there looking for a confident and happy kitten, I wouldn't hesitate to recommend Bluebears - and if I can only persuade my husband to add a 3rd kitten to the family then I will be visiting you again Hayley!"
- Katherine, Dorset
Skye
"Rob and I got our gorgeous Skye from Hayley at Blue Bears in November 2014. She settled the first night and now is numero uno in our house. She's loving, cheeky and extremely confident. We were encouraged to visit frequently between 6 & 13 weeks so we could bond with her and mum. We would recommend Blue Bears to everyone and thank Hayley, whom we keep in touch with regularly. "
- Jackie Mills, Camborne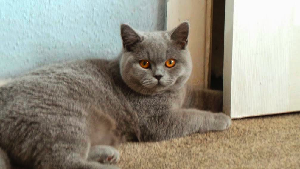 Ted
"Our journey with Hayley and bluebears began when I saw her contact details and a link to her website on the British shorthair breeders list for the Devon & Cornwall area. After doing some research on the breed we decided that they were right for us and as Hayley had blue's the best colour in our opinion I decided to enquire. Communication with Hayley was very good and very prompt and I must admit I asked a lot of questions about the breed, what were they like and how did they behave. You can tell right away that Hayley is very passionate about the breed and loves the cats and she always has there interests as her priority.
We were added to her waiting list and the wait began. On the 16th August we got an email with some pictures of the new arrivals 4 in total for Bear's 1st litter 2 girls and 2 boys. We decided we wanted a boy. Pictures were sent regularly by Hayley showing them as they were growing up and playing which was very good to see. We made a couple visits to Hayley's in Falmouth when they were 4 weeks old to see them for the 1st time which was great as we also got to see Mum Bear & Stud Muffin who was roaming outside along with the other girls who are such friendly cats with plush carpet like fur. It was also good to see her Boy blue who is 4 years old to see the size that they could reach. We went on Holiday so asked Hayley if she would keep him beyond the 13 weeks which they normally leave the mum and this was no trouble at all and was appreciated.
Our final visit to Hayley's was to pick Ted up in early December. We were both very excited about bringing him home and we did not hear a peep out of him in the car on the 2 hour journey back and by then we were learning about the breed's calm and relaxed nature. Ted is nearly 6 months old now and has settled in really well. He is such a character and is very friendly. He is very vocal as well which is nice and tells you what he wants. He loves to play and is always running around and trying to explore. Were really glad we choose the British shorthair breed as they are very different from normal moggy's which we have had in the past and couldn't recommend the process of buying a kitten through Hayley enough she was great throughout from communication and pictures to the Pedigree pack that she provides and all the documentation, she even gave a couple of toys and a bowl. "
- Carl, Plymouth